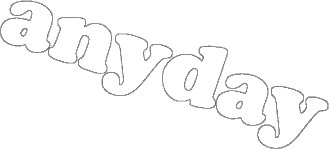 There is an explosion upwards, a moment of suspension in the air where you are weightless, ecstatic free. But the higher the jump the greater the fall. The trampoline can be a monster.
This Anyday may be the last day. The last day in this place. This place we come to learn, is a place Max may have been in for some time. Max pulls us deeply into the intimate interior world of the character and his 'bird.
It is a tender, heart breaking world. A world filled with darkness, foreboding shadows, strange sounds, echoes of the past; a presentiment of the future? Comic, absurd, surreal, Anyday excavates deep reefs of emotion. Yet the archaeology of loneliness is shot through with light and ultimately joy.
It is a miniature portrait of the life in a day of …Exuberant and exhilarating the det ailed story takes us into the emotional and psychological landscape of our char acter; but in a final coup de theatre, the interior narrative transcends the body, soul like it flies ou t into the world, encountering the audience, in a profound, memorable connection.
CREDITS
Pol Calaf Sevé -  stage manager
Set/Costume - Cathy
Lighting - Charlotte Plissart
Sound - Matt Huxley
Outside eye - Mark Storor
with the support of:

Anyday Indoors is a Max Calaf Sevé production, funded by Arts Council England through Grants for the Arts.
The development of the show was supported by Jackson's Lane London, The Point Eastleigh and Proteus Theatre Basingstoke.
With additional support from Roundhouse, London.